Honda Insight vs Toyota Prius

When it comes to hybrid crossover sedans, drivers have long looked to the Honda Insight and the grandfather of this category, the Toyota Prius. Both have delivered excellent fuel mileage and smooth rides to many drivers, but pit one against the other, and which one is the best?You can do your homework now and look at some of the similarities and differences between the 2019 Honda Insight vs. Toyota Prius.
Infotainment and Safety Features
When it comes to infotainment, you can't go wrong with a Honda Insight. Start with an 8-inch touchscreen, then throw in smartphone integration with both Apple CarPlay™ and Android Auto™. Add two USB ports, both satellite and HD Radio™ plus an 8-speaker audio to fully enhance your listening experience, and you've got an excellent infotainment system.
Unfortunately, the Prius still lags behind, as Toyota relies on its Entune™ system and doesn't include smart device integration. You'll get a bigger touchscreen but only one USB port and no way to navigate off your phone. It's Entune™, Toyota's proprietary system, or nothing in the Prius.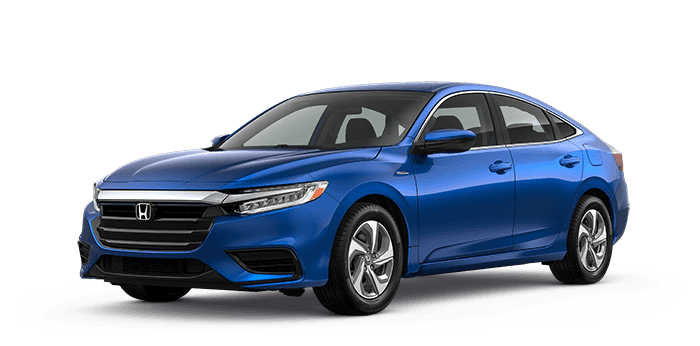 As for safety features, there's no difference between the two cars. Toyota has long touted its safety package, including Adaptive Cruise Control, Forward Collision Alarms, and Lane Departure Warnings. Honda matches all those features and includes a comprehensive airbag system as well as a spate of available camera options, including a rear camera that comes standard.
Performance and Interior Space
If you're looking for performance, the Honda Insight is the car you want. With a 1.5L 4-cylinder engine that produces 151 horsepower and 99 lb-ft of torque, this 2-motor hybrid delivers the performance you need, whether it's in the city on a daily commute or out cruising the highways headed to your favorite vacation destination.
The Prius somehow manages to take a bigger engine (1.8L) and delivers less performance. Drivers will only get 121 horsepower out of this engine, and the Prius is a full three seconds slower when it comes to accelerating from 0-60 MPH. The Honda Insight clearly has the better performance numbers.
When it comes to interior space, the Prius is slightly bigger due to the hatchback configuration. Even with slightly less space, the Insight is prepared to carry 25 more pounds overall. That's what that extra engine performance will get you!
Passengers and driver alike will find an abundance of headroom and legroom in both vehicles. In fact, the front headroom and legroom numbers are identical. But, your rear passengers will suffer in the Prius, as they have four less inches of legroom, making those lengthy car trips not as much fun in a Toyota.
Test Drive the Honda Insight at Braman Honda of Palm Beach
Don't take our word for it—come see the 2019 Honda Insight for yourself. The sales staff at Braman Honda of Palm Beach would love to show you this car and answer any questions you might have. Simply call or use our online contact form to set up an appointment. If you're a driver near Wellington, Lake Worth, Boynton Beach, or Palm Beach, you're sure to love the 2019 Honda Insight!