Honda Civic vs. Ford Focus

The Honda Civic and the Ford Focus have been the go-to cars for buyers in the Wellington, Greenacres, and Palm Beach areas for years. Given the fact that both vehicles offer affordability, efficiency, and style, it's easy to see why. But when it comes time for you to choose your next vehicle, you need to know which is the best fit for you.
That's why we put together this Honda Civic vs. Ford Focus comparison. Take a closer look at how these two popular vehicles compare, then schedule a test drive at your local dealership.
Honda vs. Ford: Cargo Space
Let's start by looking at the passenger and cargo space you'll get with each car. At the base level, each offers seating for five, but the total passenger volume for the 2018 Honda Civic equals 39.3 inches of headroom up front and 57 inches of front shoulder space, with 37.4 inches of legroom in the back. That's a total of 97.8 cubic feet.
The 2018 Ford Focus, by comparison, gives you 38.3 inches of headroom up front and 55.6 inches of shoulder space, with only 33.2 inches of legroom in the rear, for a total of 90.7—significantly less room. The Honda Civic wins in cargo space as well, with 15.1 cubic feet of trunk space as opposed to 13.2 cubic feet of trunk space in the Ford Focus.
Civic vs. Focus: Interior Features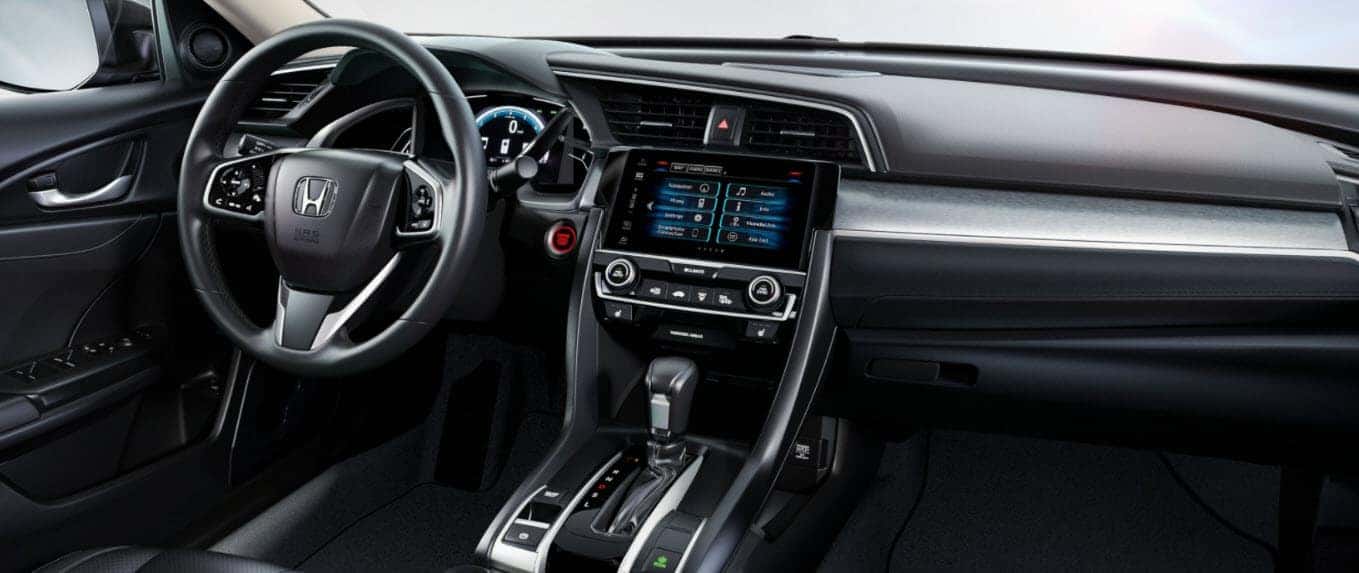 If it's standard features that you're interested in exploring, once more, you'll find the new Honda Civic has a significant advantage over the Ford Focus. The 2018 Civic comes with a range of standard features, including cruise control, a vehicle alarm, climate controls, steering wheel controls, daytime LED running lights, a 5-inch central display, a rearview camera, Bluetooth, and a four-speaker stereo system with USB interface, plus the option for the Honda Sensing advanced active safety suite.
This may seem like expected features in most modern cars; however, none of them come standard on the 2018 Focus. The Ford Focus gives you only a 4.2-inch central display; power windows, locks, and mirrors; Bluetooth; and a basic USB four-speaker sound system.
It does give you the Ford SYNC voice commands and some teen driver features, but it doesn't quite live up to the advancements made in the Civic.
Drive in Comfort & Style
Comfort and a luxury ride experience are always a must for a sedan, and neither Ford nor Honda disappoint here, though Honda does give you a bit more luxury in feel. The Focus offers a smooth ride and a quiet cabin, but hard internal materials like door armrests do reduce the comfort level, as does the lesser space in the rear.
The Honda Civic, on the other hand, offers outstanding levels of comfort, and indeed it feels like a much more spacious and larger car than it actually is but in a good way. It offers a superior balance of support and performance plus exceptional levels of driver and passenger space.
Check Out the 2018 Civic at Braman Honda of Palm Beach
The 2018 Honda Civic is available now at your local Honda dealership. Whether you're ready to buy today or you're just checking out your options, our friendly team of sales professionals will be happy to guide you through the process.
Start browsing online in our huge showroom now then schedule a test drive to experience the 2018 Honda Civic in person at Braman Honda of Palm Beach.