2018 Honda Civic Interior

When you're driving around the Wellington, Lake Worth, Boynton Beach, or Palm Beach areas, you want to be driving in style. Most modern sedans have the exterior appearance covered. For many drivers, the interior is what sets sedans apart and can be the deciding factor when making a choice.
The 2018 Honda Civic has one of the most exciting interiors on the market today. This popular model has gone out of its way to stand apart from the rest in the highly competitive sedan market. Informed drivers want the best out of their car and always expect it to look nice. With this interior review, learn about the Honda Civic interior and discover if it meets your needs.
Honda Civic Interior Comfort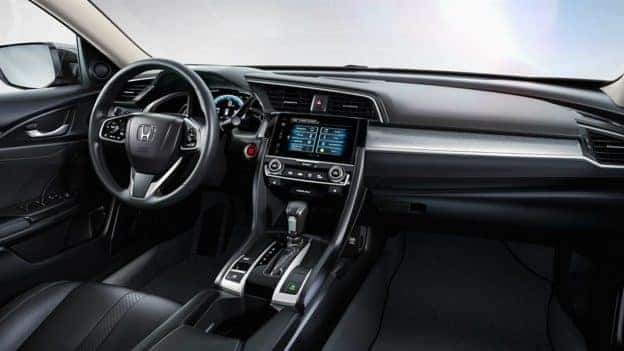 A stylish exterior profile is nice in a sedan, but you have to like the inside of it too. That's always easier when the car is comfortable, and the 2018 Honda Civic doesn't disappoint. Experience a luxurious feel with leather seats and leather trim around the dash and steering wheel. The Civic has quite a few trim levels, but leather seats become available early on. The EX-L and Touring versions feature leather seats as standard.
Not only do the seats provide an extra level of comfort, but they adjust easily to your body. The driver seat can be powered, which comes standard on higher trim levels. The Honda Civic also features a tilt steering wheel and sunroof. Everything is catered to your comfort to make every trip a breeze. That includes trips to cold-weather climates. Fortunately, the Civic has heated seats available too.
Honda Civic Cargo Space
Not only do you have the option for leather material, but you have plenty of room to sit comfortably in all trim levels. When driving the 2018 Honda Civic, you can enjoy 39.3 inches of headroom and an impressive 42.3 inches of legroom. People on the taller side can still sit comfortably in the front or back.
Sometimes you need to haul items rather than people, and the 2018 Civic has you covered there too. The trunk capacity is 15 cubic feet and extends to 26 cubic feet with the hatchback version. The rear seats are easy to manipulate and arrange with their 60/40 split fold-down system. Putting them down extends the available cargo volume about 20 cubic feet extra.
Interior Features and Technologies

Modern sedans feature a lot of advanced technology, but the Civic's is particularly impressive. Backup cameras are standard in most modern vehicles, but the 2018 Honda Civic features the Multi-Angle Rearview Camera. With this high-tech camera, you can see behind you from three different angles: normal, top-down, and wide.
The Honda Civic also features a camera on its right-side mirror. When you activate your right turn signal, the touch screen display shows a live feed of what's right of your car. This LaneWatch™ features helps you see better, making you less prone to mistakes.
Drive in Style in the 2018 Honda Civic
The 2018 Honda Civic interior offers stellar comfort, space, and technology. Reading about it will gain you some knowledge, but the best way to understand is to experience it for yourself. Braman Honda of Palm Beach invites all Wellington, Lake Worth, Boynton Beach, and Palm Beach residents to test drive the Civic.
Here at Braman Honda of Palm Beach, our expert staff is committed to finding the right car for your needs. They know the interior details of every vehicle in our lot and can answer any questions you might have. We know you'll fall in love with the 2018 Honda Civic. Visit us or contact us online to schedule your test drive today!