Honda Accord vs Toyota Camry

When it comes to midsize sedans, there are certain manufacturers that consistently come out at the head of the pack, and drivers across Palm Beach, Boca Raton, and Greenacres are well aware of it. Two of the most important of these are Honda and Toyota. Both deliver sedans in the Honda Accord and Toyota Camry which hold their value, as well as delivering a great ride.
Which one, however, comes out on top when they're pitted right against one another? Check out what to expect when we compare the Honda Accord vs Toyota Camry in a battle for supremacy between these mid-sized sedans.
Accord vs Toyota Overview
This year, both the 2018 Honda Accord and the new Camry have undergone a few changes. The Accord offers a lighter profile and a longer wheelbase to create better balance and aerodynamics, as well as providing two more inches of legroom in the back, and 16.7 ft3 of trunk space, the largest in the segment.
New engine options improve performance, while a new cabin delivers an upscale, luxury experience with both a touchscreen and physical knobs for ideal control options on the infotainment system. Finally, you'll also get a ton of new, active safety and driver aid features.
The Camry, on the other hand, gets a complete redesign this year, including a longer wheelbase and revised rear suspension. However, most of the key differences this year are style-based, as opposed to performance or features-based, so the Accord wins out in the "what's new" arena.
Performance in the Honda Accord vs Toyota Camry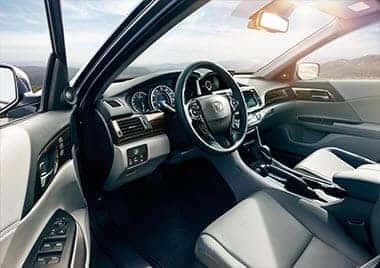 The base engine for the Honda Accord is a 1.5L inline-4 engine which gives you 192 horsepower and equivalent torque, with an available 2.0L engine which gives you 252 horsepower and 273 lb-ft of torque. A six-speed manual is available, but a CVT is standard.
The base 2.5L 4-cylinder engine for the Camry puts out a bit more power than the 1.5L engine for the Honda, but not as much as the 2.0L engine, and the bigger Toyota engine is only available at the very top trim levels, making it more expensive.
Honda Accord vs Toyota Camry Features
These two vehicles differ greatly in available features, as well. While the Camry has many features that line up neatly, there are a number of notable features that are missing. These include the same level of parking and driver convenience aids the Accord offers, as well as hands-free communications, integrated turn signals, heated back seats, memory settings, and more.
The Honda Accord cannot be beaten for its Honda Sensing® active safety suite, which provides a complete range of sensors and features that are custom designed to keep you secure behind the wheel. These include Lane Departure and Lane Keeping features, Road Departure Mitigation, Adaptive Cruise Control, Automatic Emergency Braking, Frontal Crash Warning and Mitigation, Blind Spot Monitoring, Honda LaneWatch™, Cross-Traffic alerts, utomatic high beams, experience sensing, and more.
Test Drive the Accord at Braman Honda of Palm Beach
In our estimation, the new 2018 Honda Accord offers a lot more than the Toyota Camry. You don't have to take our word for it, though. If you're in Palm Beach, Boca Raton, or Greenacres, Stop into Braman Honda of Palm Beach or contact us online to get behind the wheel to see for yourself!