Free eBook: Sounds Indicate Your Car Needs Maintenance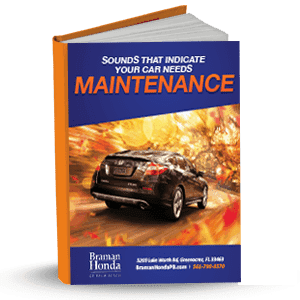 As you cruise around the sunny cities of Palm Beach, Boynton Beach, Wellington, and Lake Worth, there's no doubt you'll want to roll down the windows and soak up some of those rays. When you do, maybe turn down the radio, too, and give your car a listen.
Need some help decoding what you hear? This Sounds That Indicate Your Car Needs Maintenance eBook will help you understand what noises can lead to service. These include:
Squeals and Squeaks
Clunks and Thuds
Sputters and Rattles
Our service team is here to help you speak your car's language. Download this FREE eBook from the Braman Honda of Palm Beach team today to learn more!