Honda Accord Maintenance Schedule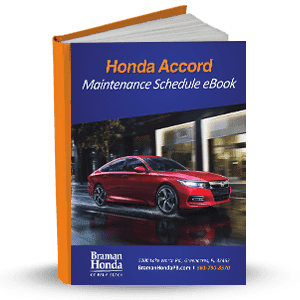 There's nothing more important than making sure that your automobile stays healthy. Whether you need a replacement or a simple inspection, maintenance is the key to helping your vehicle stay on the road for years.
And to keep you in line with all your car's checkups, we're here with this free Honda Accord Maintenance Schedule eBook. That way, you'll make easy work of scheduling all your vehicle's evaluations so that it'll remain by your side, no matter what.
Throughout this comprehensive guide, you'll discover more about the various procedures and inspections your car will see at each milestone it reaches, such as:
The Importance of Regular Maintenance
Your Honda Accord Maintenance Schedule
The Maintenance Minder™ System
Also included in this FREE eBook are a collection of handy coupons that'll help you save some cash during your next replacement, repair, or any other type of service visit.
Why wait around to learn more about how you can keep your automobile performing at its best? Download this Honda Accord Maintenance Schedule eBook right away and take advantage of all the useful details contained within its pages.