Dealership Prices vs. the Competition in Greenacres, FL


The first thing people notice when they look at our prices compared to other local automotive service centers is that our prices are higher. At first glance, it does appear that way. But that perception quickly changes when you look at what exactly you're paying for at our dealership service center compared to those others. So why should you choose Braman Honda of Palm Beach for your automotive maintenance? We'll give you three big reasons.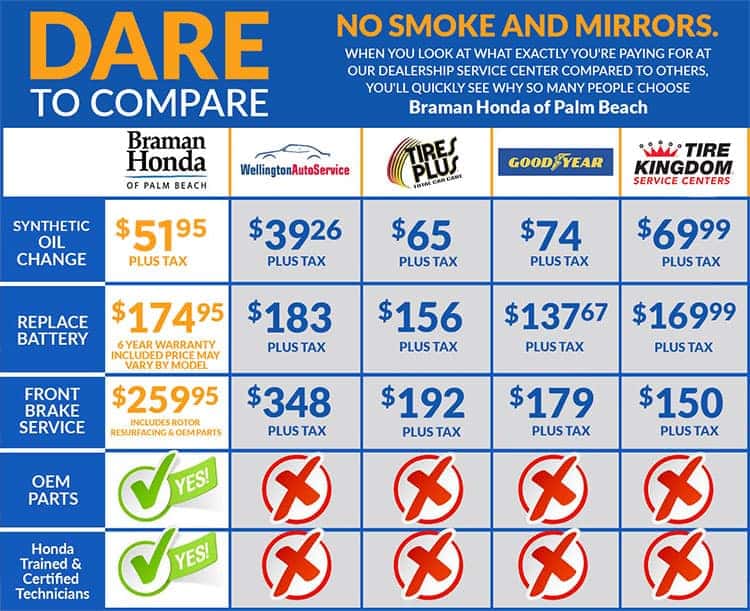 Reason #1: Our Technicians Are Factory Trained
As a Honda dealership service center, we have many requirements we must meet. One of those is that all our automotive technicians must be Honda factory-trained technicians. But what does that mean?
In short, it means that our service technicians are constantly going through education and training so they have the latest and greatest diagnostic techniques and automotive repair knowledge. So, when you get service with us, you'll know you're getting exceptional service every single time.
While those other repair shops might say their technicians are "factory-trained," the fact is that unless they're currently working in a dealership and getting that ongoing training, they might be working on old knowledge. And if your vehicle is brand new, that could be a big problem.
Reason #2: Our Work Standards Are Honda Approved
As a Honda dealership, we have a whole list of standards that we need to meet to keep being a Honda service center. These include training schedules, diagnostic tools, best practices, and customer service techniques. And that means when you choose to get your regular automotive service from Braman Honda of Palm Beach, you get the best.
We're also required to use the highest quality products available. If your vehicle's brakes need to be replaced, you won't be back in two weeks when they start squeaking. We'll use high-quality brake pads so they don't do that. And when you come in for that service, we'll give your vehicle a once-over to make sure that's what you really need.
Reason #3: We Give the Whole Picture
If you've ever gone through the diagnostic screens at those quick lube places, you'll notice that there are many things your vehicle "needs." But those needs are only according to their standards, and likely don't line up with the needs of your vehicle according to the manufacturer.
In the service center at Braman Honda of Palm Beach, we must abide by manufacturer standards, and that means we're required to tell you if we find any other problems with your vehicle. We won't tell you that your vehicle needs a differential fluid flush unless it does. And we won't tell you that your vehicle needs new brake fluid simply because our company wants to sell more of that service.
We look at your vehicle's manufacturer-recommended services. We look at the current health of your vehicle. And we look at how you drive and use your vehicle to determine what services you need. We're here to have a long-term relationship with you, not to sell you expensive unnecessary services. This not only saves you money, but it helps build confidence that you're getting everything you pay for when you choose our service center.